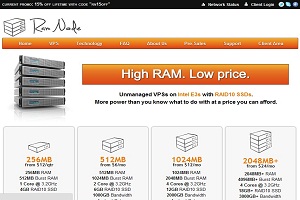 RamNode是一家成立于2012年的vps,据说进入主机领域是2006年。来自let的促销,推出了终身85折优惠码RN15OFF,256M内存,4G硬盘,500G流量,基于Opnvz的VPS,季付仅需10.2美元。

RamNode – 10.2美元/季 256M 4G 500G 达拉斯
虽然这款配置貌似硬盘不太给力,但考虑到ssd以及raid 10,应该说至少io有所保障。
256MB DEDICATED RAM
512MB BURSTABLE RAM
4GB SSD @ RAID10
1CPU CORE
OPENVZ/SOLUSVM
测试IP:23.29.117.134
促销原文
GET 15% OFF LIFETIME! USE CODE RN15OFF
About Us
RamNode exists for one purpose: to provide affordable VPSs with powerful features. Our years of hosting experience as both clients and providers have inspired us to offer the kind of hosting that clients want at the kind of prices clients want to pay. Though our prices are low, we never sacrifice quality or performance. We know that our best assets are our loyal customers, so we strive to provide hosting they will rave about to their fellow internet users. Our VPSs are perfect for a wide range of applications. With our top quality hardware, we can guarantee that our clients will get the most bang for their buck.
Our SuperMicro enterprise grade servers are stocked with Intel 320 SSDs in lightning fast RAID10 arrays. Our servers provide incredible I/O as well as the safety of drive redundancy. We use powerful Intel Sandy Bridge and Ivy Bridge E3 Quad Core processors on our VPS nodes. These CPUs run at a minimum 3.2GHz per core. CPU is allocated on a fair share basis per VPS, only limited by the number of cores in each plan.
Currently, our VPSs are hosted in Dallas, TX.
=====================================
VPS Features
In addition to our great hardware, each VPS comes with the following features:
SolusVM control panel 1Gbps fair share port speed INSTANT setup Daily remote backups TUN/TAP
=====================================
VPS Plans
We have several predefined plans, and we offer custom packages upon request.
256MB VPS
RAM: 256MB Burst: 512MB Cores: 1 4GB RAID10 SSD 1 IPv4 Address 500GB Bandwidth
Price: -$12.00/qtr- $10.20/qtr | Order Now
512MB VPS
RAM: 512MB Burst: 1024MB Cores: 2 6GB RAID10 SSD 1 IPv4 Address 1000GB Bandwidth
Price: -$6.00/mo- $5.10/mo | Order Now
=====================================
FAQs
How long does VPS setup take? Your VPS will be setup INSTANTLY upon receipt of payment (unless we happen to be out of stock).
How can I pay? We accept PayPal and Google Checkout.
How long have you been in business? RamNode was founded in June 2012. We have been hosting in other professional capacities since 2006.
What's the best way to get help when I need it? Our VPSs are unmanaged, but you can open a ticket for acceptable support requests. We are also available on Live Chat, Skype, and IRC.
What kind of hardware do you use? Intel Sandy and Ivy Bridge E3-1230s (or better). All of our nodes boast RAID10 Intel 320 SSDs and DDR3 RAM.
How fast is your connection? Our VPS nodes are connected to the internet at 1Gbps. Your VPS can use all of that speed on a fair share basis.
Do you have any speed tests? Test IP – 23.29.117.134 100MB download – ramnode.com/100MB.test
What operating systems are available? We offer a variety of Linux 32 and 64-bit OS templates.
What kind of virtualization do you use? Our VPSs run on the OpenVZ virtualization platform.
What control panel comes with your VPSs? Our VPSs come with the SolusVM control panel.
Do you provide remote backups? Yes, we take remote backups of each VPS image on a daily basis. We keep two backups (48 hours worth) in rotation. You can request a VPS restore through a support ticket.
=====================================
Other Info
Affiliate System Sign up for our affiliate system and you can earn a credit for your account of 10% from each invoice of new clients you refer to us.
Reseller Our reseller offerings will soon be listed on our site. Please contact us if you are interested in reselling our VPSs under your own brand.
=====================================
Contact Us
There are a variety of ways you can contact us: Sales: sales[at]ramnode.com Support: support[at]ramnode.com Billing: billing[at]ramnode.com Skype: RamNode Twitter: RamNode Facebook: RamNode IRC: #ramnode on irc.esper.net
You can also catch us on Live Chat or open up a ticket from the Client Area.